The Artist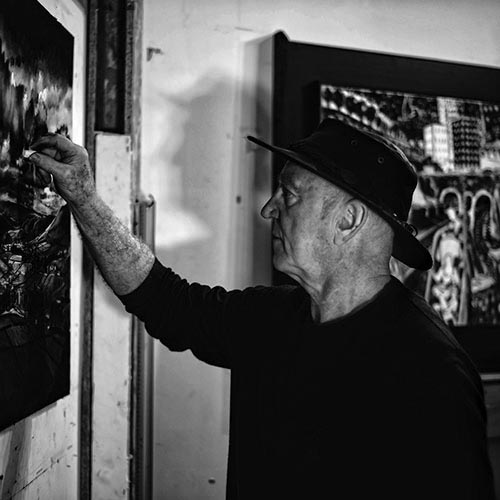 Multi talented artist Mike Holcroft is a canvas based painter and draftsman, equally at home with colour as with drawings in black and white.
Recently preoccupations are interpretations of urban / rural landscapes where his lives in West Yorkshire, as expressive as they are topographical.
His background includes an enduring passion for 'the masters of art' and built up a comprehensive portfolio of closely observes works at Walthamstow College of Art
(BA) followed by an MA painting from RCA London 72 – 76. Here he opened himself up to many processes, from abstract expressionism to minimal constructivism, never loosing sight of his own vision.
MORE DETAILS COMING SOON
1947 Born Blackburn, Lancashire
1965-67 Blackburn School of Art
1967-72 Walthamstow College of Art BA
1972-76 Royal College of Art, London – MA painting
1979 Neue Galerie, Darmstadt, Germany
1984 Harvey Gallery, Guildford
1984 London Group Open Exhibition
1984 Steiger Jones, New York
1985 'Stones on the Path' solo 181 Gallery, London
1985 'Dark Light' Farnham Maltings
1986 Royal Academy summer Show (shortlisted 2 works)
1986 University Institute, Guildford
1987 Cleveland International Drawing Biennale
1990 Palo alto, Barcelona
1991 'Water' Bracknell Gallery, Berkshire
1992 'Ship of Fools' Acorn Gallery, Liverpool (4 paintings)
1993 Blackburn School of Art
1993 Blackburn Museum and Art Gallery
1993 'Search for Self' Salters Gallery, Guildford
1994 Royal Academy summer Show (shortlisted 2 works)
1994 Cheltenham Open Drawing (3 drawings)
2005 'Flowers' Solo exhibition Nant-y-Coy Arts, Pembrokeshire
2014 Solo exhibition Water Street Gallery
2015 'The Mirror Studies' Solo exhibition Water Street Gallery