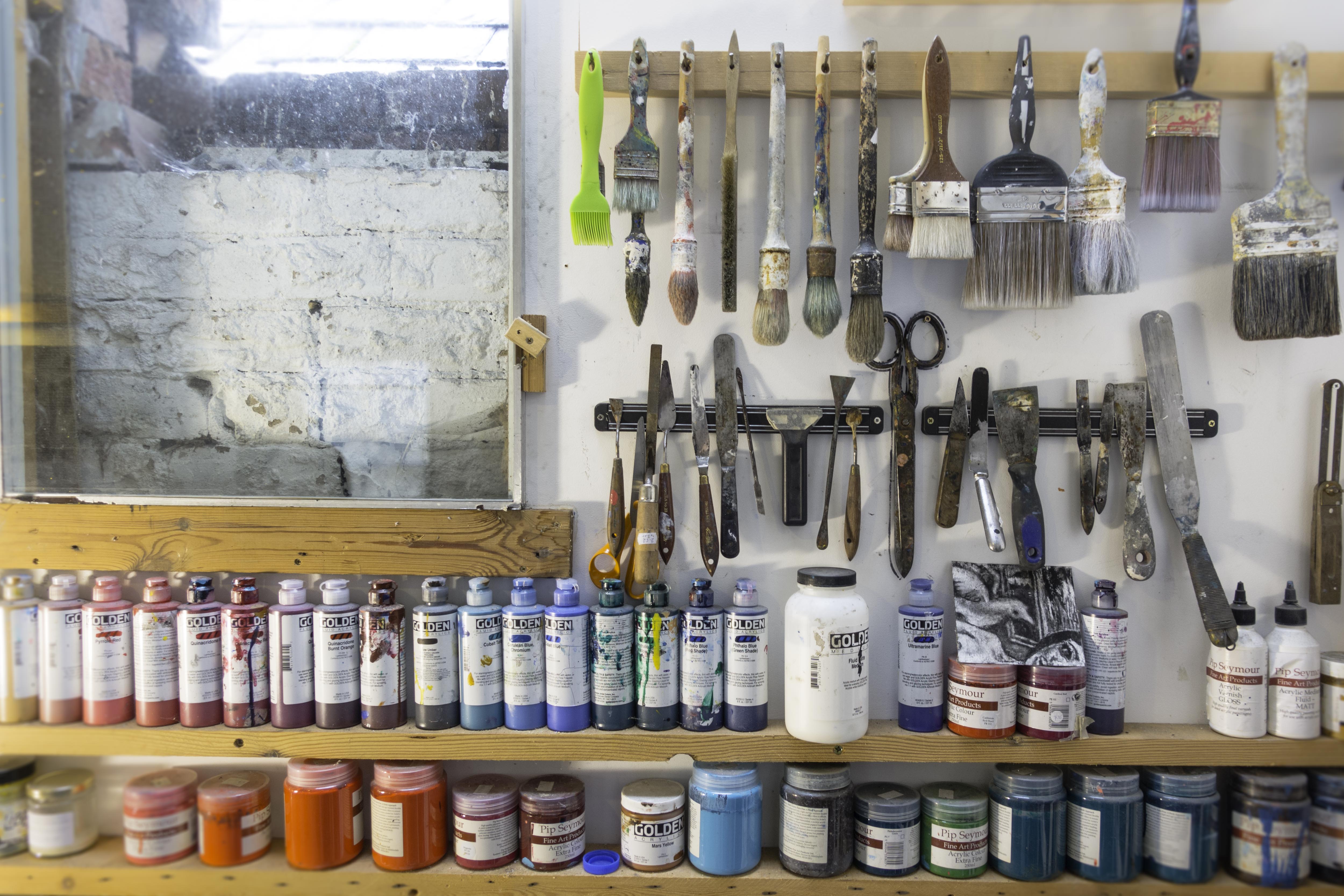 I really am an artist in an attic - a large studio at the top of a house, brilliant light and high vaulted ceiling, with a view of the Cross Stones Church and the golf club. In fact prior to my buying the house, which is just near the railway viaduct in Todmorden, it was also used as an artists studio. True to form I converted the space to my needs, lining the walls with mdf., covering the beautiful floor with boards and gradually developing a good working practice. (Past studios have tended to oscillate from Baconesque mayhem to laboratory organisation. in this one I have the balance about right for clear thinking and creativity. Building of work trollies, shelving for paints, hooks for each tool (magnetic strips are excellent), and the usual plan chest, chairs and stools make up the fixtures and fittings. With health in mind I have an extraction fan for pastel and charcoal dust. Preparation of my frames takes place in the lower floor, while future plans are to create a dedicate mounting and framing space in the lower room.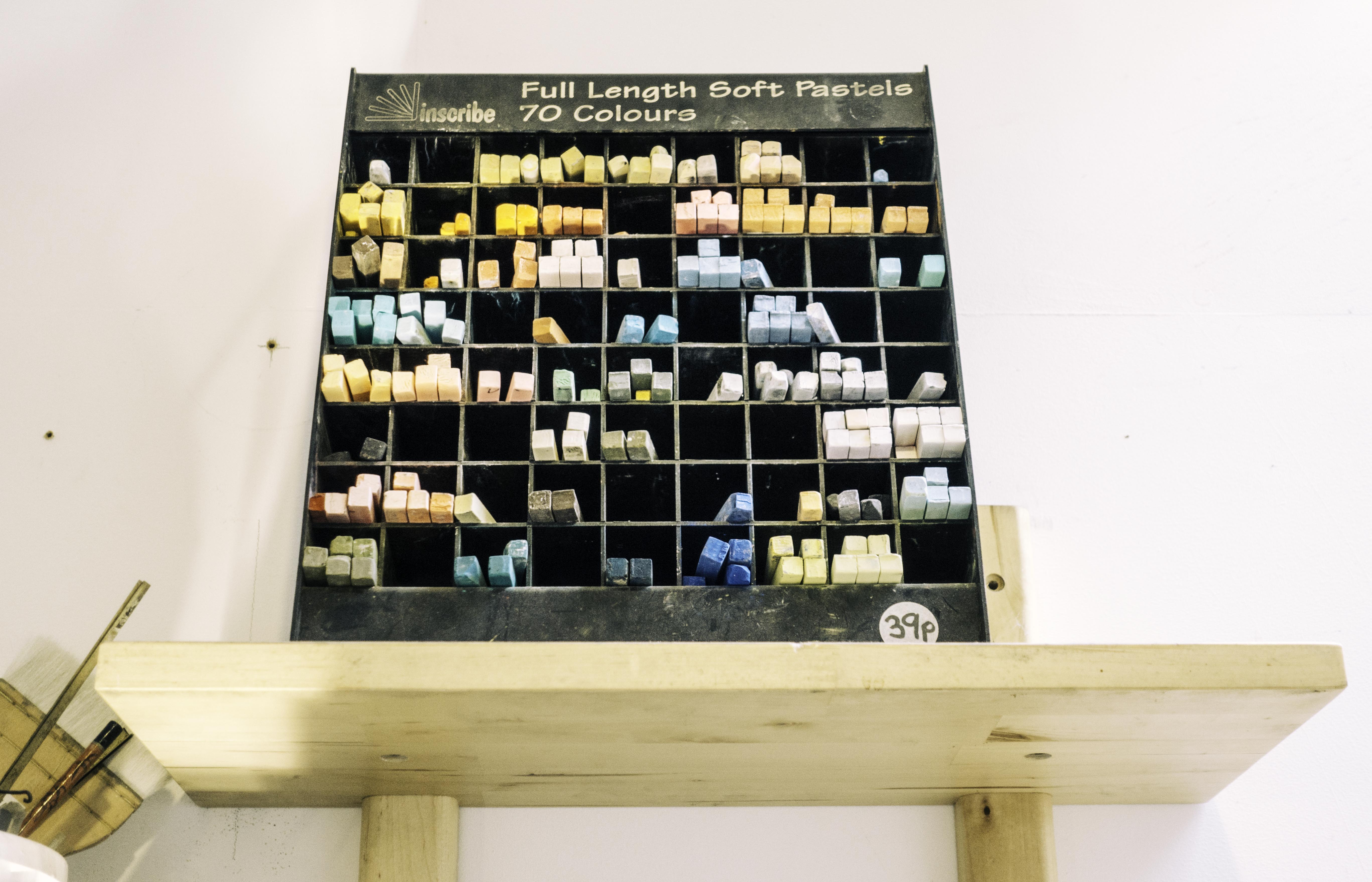 After the RCA I escaped from city life for a couple of years to a remote part of West Scotland - Scoraig where I lived in a bothy. Studio space was restrictive to say the least, the environment was amazing, but I was still in the grip of producing abstract expressionist work with a difference - on a table top for studio. Even the colours of the heather, moor land, and peaty locks were as remote from my palette as they could be, as I followed my abstract paths.
On returning to 'The South' my next studio was rented in a house owned by the parents of Jeremy Hunt, near Shere in Surrey. I converted our dinning room (hardboard covered the expensive flooring) and progressed into hard edge painting, and some impressive large scale works 'The Four Seasons' enthusiastically admired by Nicholas Logsdale (Lison Gallery) who recommended I visit Paris and the Jackson Pollock retrospective - the outcome of which is another story, another studio

Moving to Guildford, within striking distance of the North Downs and pilgrims way, and with a growing family, I found a studio space which was in a freezing cold building on an egg farm. Here I produced 100's of acrylic abstract works, some being accepted by R.A. Summer show 1982 - 83. However, the rent rises become prohibitive. Decisions were made to build a studio at the bottom of our garden. No more vegetables or paddling pool. Cline Road Studio was my first custom made, brick built studio. While under construction the roof even survived the great storm of 1987, though my back paid the price while wresting with a temporary roof panels which flew off like playing cards in the storm. Here, charcoal drawing s came to the forefront, with 'Myself Secret', 'Swimmers', 'Stones on the Path' and other works from imagination happened. Here I also developed a technique of bypassing 'the mind' by working on a revolving wall mounted platter, using both hands. Acceptance in the prestigious Cleveland Drawing Biennale was a high spot, as was a 'visitation' by my muse revealed in a large scale charcoal drawing 'The Last Train'.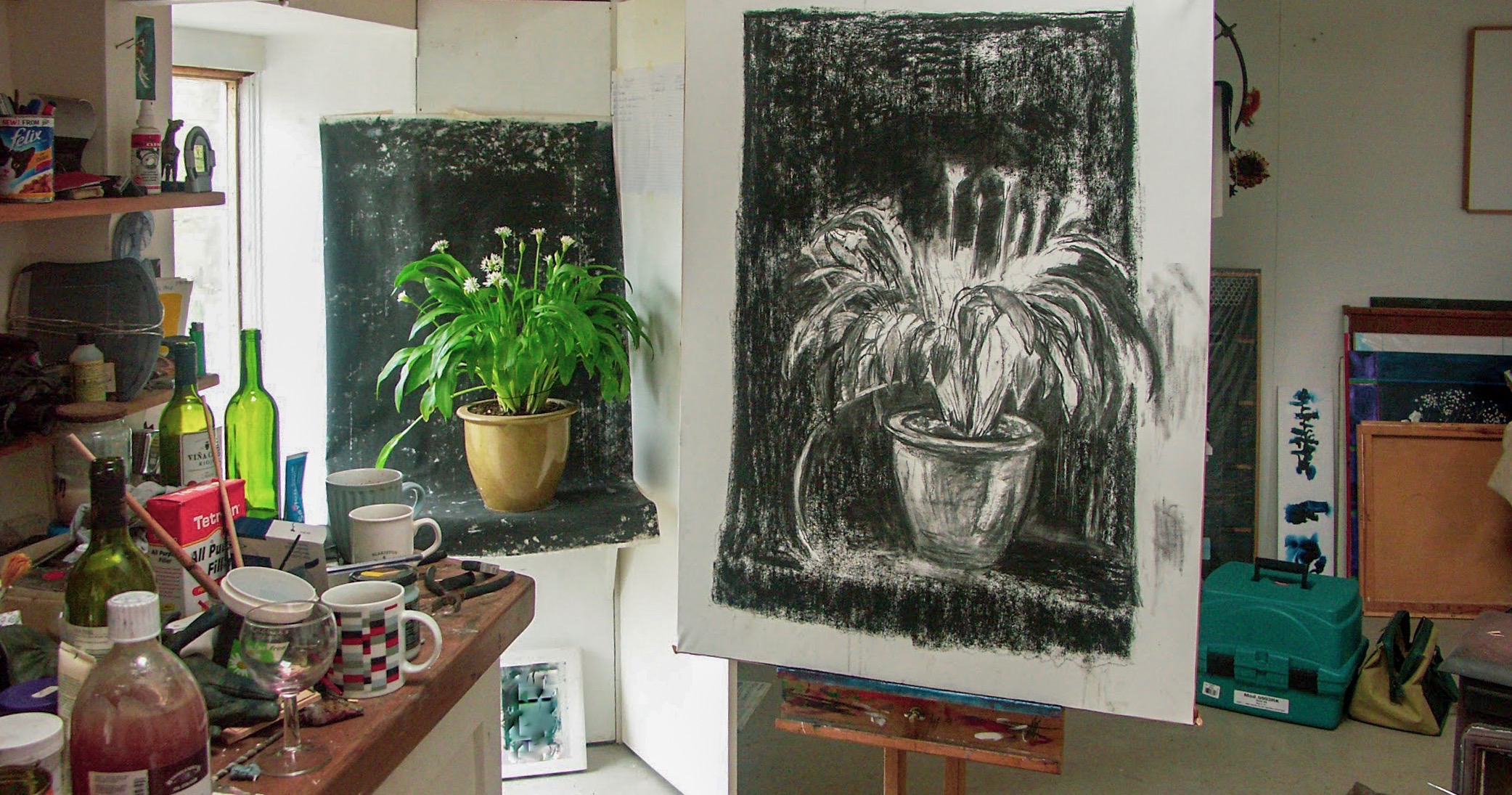 Wales next, a smallholding with 10 acres and a smelly calf shed (more a barn) 2ft deep in dung. Help from my sons and it was gradually converted into a fantastic studio, with darkroom attached. This darkroom facility allowed my to rekindle my love of photography and drew me to landscape work.

I produced an eclectic mix of work from responding to issues, such as the murder of 5 prostitutes in Ipswich, too much soul searching and self portraits, and two bodies of work 'The Secret Life of Plants' - flower paintings and drawings, and developing 'The Mirror Studies' series. All the works for the flower series were set up in the same position in the studio with daylight streaming in from the left.
This error message is only visible to WordPress admins
Error: No connected account.
Please go to the Instagram Feed settings page to connect an account.